TYPE: TOP-1/2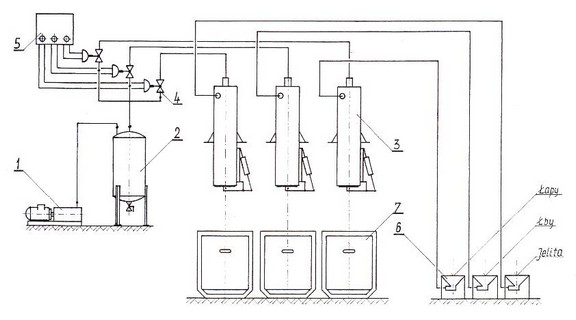 The pneumatic system is used for efficient transport of slaughter waste obtained as a result of technological processes carried out at the slaughterhouse.
OPERATION
The slaughterhouse waste resulting from the technological process carried out is characterized by different physical properties and, at a later stage, has a different purpose, it is a raw material for further processing, for example: into animal feed.
They were divided into: paws, heads and intestines. This includes it determines the presence of three sequences.
As shown in the figure above, the setting of the charging hoppers (6) starts each sequence. The waste is transported through a closed conduit (stainless, acid-proof pipe) to the separating tank (3). The mass accumulated in the tanks remains in the appropriate one time removed by opening the bottom cover. The waste falls from the tanks to the container (7). Transport in each line takes place alternately in the automatic cycle. The executive system is assembled from pneumatic actuators of very high durability and operational reliability. The automation is handled by the appropriate clock unit (5), which has a time regulation. The transport of waste is based on the principle of negative pressure, which is one of its main advantages. Ease of locating and controlling each line is an equally important advantage.
TECHNICAL SPECIFICATION
The system is composed of:
1. Vacuum pump
2. The expansion tank
3. Separation tanks (cyclones)
4. Control valves
5. Valve control unit
6. Baskets for filling slaughterhouse waste
7. Waste containers