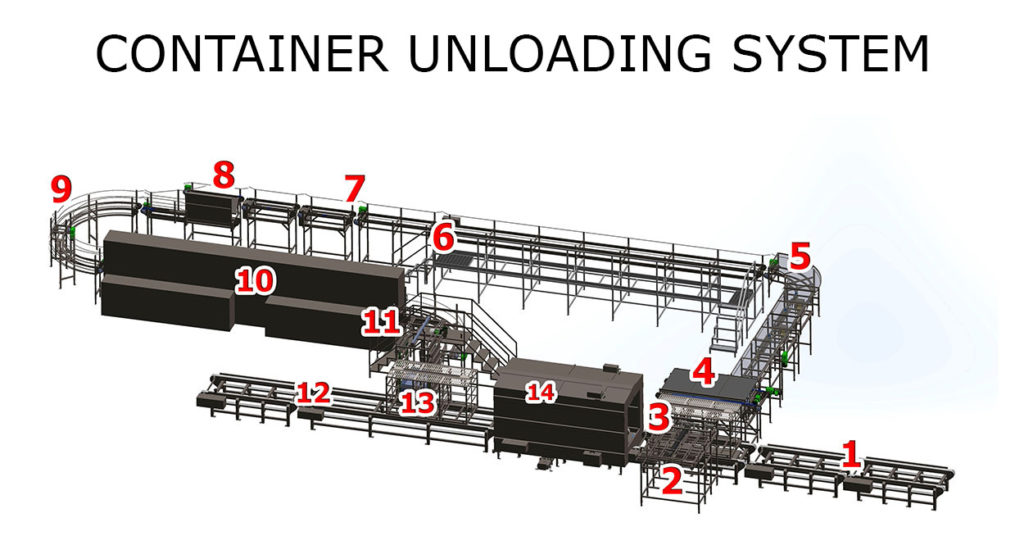 1    Container conveyor
2    De-stacker
3    Scissor-lift
4    Unloading table
5    Chain conveyor for transport of crates
6    Catwalk for hanging poultry
7    Chain conveyor for transport of crates
8    Crate rotating system
9    Chain conveyor for transport of crates
10  Crate washer
11  Stacker
12  Container conveyor
13  4-level container
14  Container washer
One-sided open container

Made of durable plastic with high load resistance
Overall dimensions: 1.16m long, 0.77m wide, 0.255m high
Input: approx. 50kg
Holds 18-22 chickens depending on the weight of one piece

Container for transporting poultry

Made of structural steel with high mechanical strength. Container protected against corrosion through the process of hot-dip galvanizing
Overall dimensions: length 2.48 m, width 1.17 m, height 1.8 m
Weight: 270 kg
Number of containers in a container: 12 or 15 pcs depending on the type of container (4 or 5 level)

Transportation of containers with livestock

A standard truck trailer with dimensions of 13.6 m long, about 2.48 m wide, 2.8 m high holds 22 containers, i.e. 2 floors with 11 containers on each floor, so in total one car transports 5300-6600 chickens.

Container with bins
ADVANTAGES
-Excluding the live poultry hanging stage, the live unloading process is fully automated. The conventional unloading stage is physically demanding for the workers and the system is able to fully fulfil this task.
– A state-of-the-art system for transporting live birds that ensures their safety and greatly improves slaughterhouse operations.
– Full adjustment of the system to the Investor's needs and expectations, such as slaughter capacity and available space.